Limitations of Microsoft Teams
Microsoft Teams is a wonderful product. It is designed for collaboration within groups. It can record video to the cloud. One may wonder, is not this the crux of an inspection? Well, there is more to this than simply videoconferencing and recording. Microsoft Teams cannot capture shared notes in Teams meetings.1 The capturing of shared notes is an important feature. This is because inspectors typically need to provide evidence to auditors, regulators or customers who were not necessarily included in the initial inspection. Other features may be possible but are harder to implement. The "user rights" features to modify accessibility for different groups are more difficult to set up within Teams than with a more dedicated product like the one at CloudVisit. Incorporation of a checklist to streamline your job process is seamless with CloudVisit Inspection software, because it was designed specifically for inspection.
Limitations of Zoom Videoconferencing
Zoom was initially intended to be a great tool for interactivity between groups. Zoom serves well for group meetings and gatherings. However, it is rather lacking for the purpose as a highly specialized tool for managing projects and documenting inspections. It also does not incorporate the use of checklists making this something of an ad hoc product within the realm of an inspection. Other software and functionality will have to be used in tandem with Zoom for it to work as an inspection software. These issues do not exist within CloudVisit Remote Inspection software.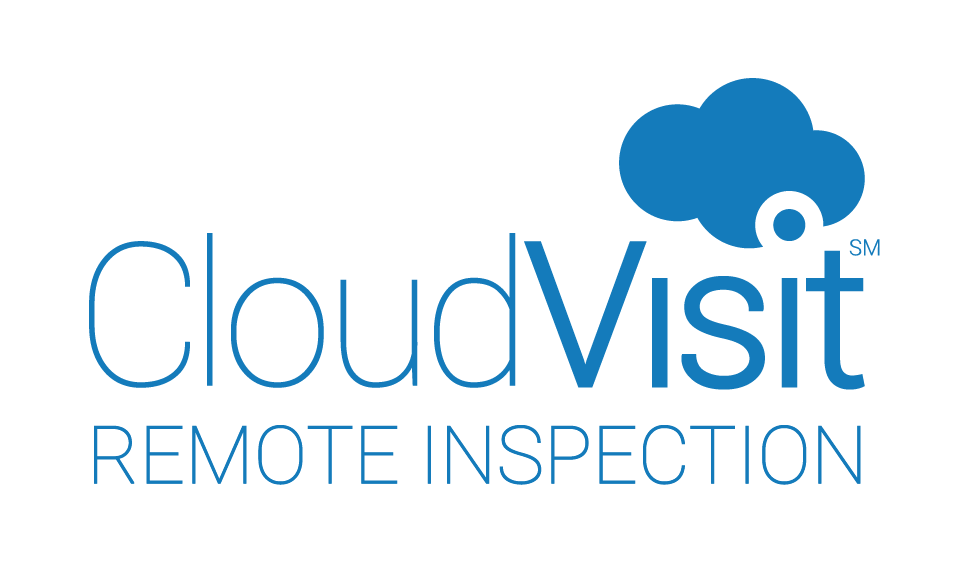 CloudVisit Remote Inspection software is dedicated to virtual inspections
What sets CloudVisit apart from competing videoconferencing and project management solutions that can record video remotely is the dedicated functionality within the software. CloudVisit Remote Inspection was developed to help inspectors create tables and integrate them completely within its video conference environment. Working on the platform, a remote inspector can create an inspection plan for a project. Then the inspector can see all facets of that plan implemented within a single software system. It simplifies capturing and organizing large quantities of photos, short or long videos, and other files such as PDF or CAD documents. Ultimately, a dedicated virtual inspection platform allows users to easily access and share this content for review by customers, stakeholders or industry regulators. The checklist that CloudVisit has extensively optimized for these types of projects is an example of the maturity of the software.
CloudVisit Remote Inspection software's checklist provides itemized descriptions of elements that require review. The checklist is visible for both desktop and mobile users. The dedicated checklist has time saving features such as sorting and filtering functionality, which allows inspectors to locate specific line items quickly. The checklist also makes it possible to track the status of an inspection item. If an inspector identifies a deficiency during a virtual inspection, he or she can mark a passing or failing value and track the item's correction.
Mobile users are also able to upload photos and videos directly into the checklist for further review by an inspector or auditor. The auditor does not even need to be present within an active video conference session to review files! When a mobile user uploads a file, the inspector receives onscreen, or email alerts notifying that new evidence is available. This is a handy tool which optimizes workflow and makes it easier to track and ensure that corrections have been completed successfully. It is possible to complete an entire inspection following this method. The uploaded documentation is stamped with GPS coordinates and date and time to ensure its authenticity. None of this is possible to do within the major video conference companies' packages.
CloudVisit Remote Inspection software also makes it possible to record live video in multiple ways to fit an inspector's optimized workflow. This also surpasses the recording capabilities of the major videoconference software providers. Inspectors can capture short recording snippets into each checklist row. The in-row capture function is useful for reviewing a project as the work is being completed.
Another recording workflow method is to capture continuous video recordings during a virtual inspection session. This recording method is useful for virtual walk-through inspections. No matter what recording method is used, the inspector has the opportunity to pause, stop or continue the video recording at any time. It is also possible to compile and append the recordings with still photos after a virtual inspection session has been completed. Major videoconferencing vendors including Zoom, Microsoft, BlueJeans, and Amazon, do not provide video editing functionality within the user experiences.

CloudVisit Remote Inspection Saves Money
At first glance, CloudVisit Remote Inspection may seem more expensive versus videoconferencing systems from Zoom and BlueJeans. However, when travel and labor expenses are included, there are limited cost savings from using a videoconferencing system vs CloudVisit Remote Inspection.
Furthermore, trying to find workarounds for software not specifically dedicated for virtual inspection is time consuming, and leads to more costly delays and mistakes within an inspection organization's overall workflow. It would save far more time and money, if the project was managed from the beginning using virtual inspection software versus videoconference systems like Zoom. The analogy is trying to force square pegs into round holes.
In summary, can businesses requiring routine inspections afford not to sign up for CloudVisit Remote Inspection software? CloudVisit's proprietary remote inspection functionality is proven to maximize overall project and labor efficiencies. Clients using CloudVisit's Remote Inspection Platform typically have a 100% return-on-investment (ROI) on costs within 90 days or less of purchase. Call 845-809-5770 today for a free consultation to optimize client engagement, streamline project efficiencies, and maximize profitability, using CloudVisit Remote Inspection.
References: