A structural fire starts every 63 seconds in the United States and can cause devastating consequences for businesses and homes. The National Fire Protection Association (NFPA) requires officials to ensure that fire protection and life systems be maintained in all commercial and multi-occupancy residential buildings at all times, regardless of occupancy status. Remote video inspection or RVI solutions represent an effective alternative to an in-person or on-site inspection, enabling two or more users to perform an inspection of the subject matter without any physical contact.
Just like with all traditional inspections, a building fire safety RVI is associated with a jurisdiction's permitting process and needs to be approved by the authority having jurisdiction (AHJ). With social distancing requirements in place, NFPA is paving the way for remote visual inspection by releasing RVI guidelines. Most fire protection systems' maintenance and installations must comply with codes and standards set by the NFPA. To ensure that these standards are met, inspection testing and maintenance (ITM) activities are required. These tasks usually include visual data collection, management, and reporting for sprinkler systems, fire pumps, smoke alarms, valves, water storage tanks, among many others.
NFPA RVI compliance with CloudVisit
CloudVisit Remote Inspection and maintenance software enables remote video inspection processes to be compliant with NFPA's RVI guidelines, allowing users to conduct the inspection using common desktop and mobile devices. Simply put, inspectors conduct safety inspections over a desktop computer from their home or office, while a technician, contractor, building manager or customer is on-site showing the inspector what they need to see. During this live peer-to-peer video collaboration experience using CloudVisit software, a remote inspector observes the shared video feed. CloudVisit's platform features allow remote fire inspectors to record live video, take screen captures, annotate screenshots, view uploaded images, import and manage a digital checklist with comments, task statuses, delegation options, generate a report, to name just a few functions.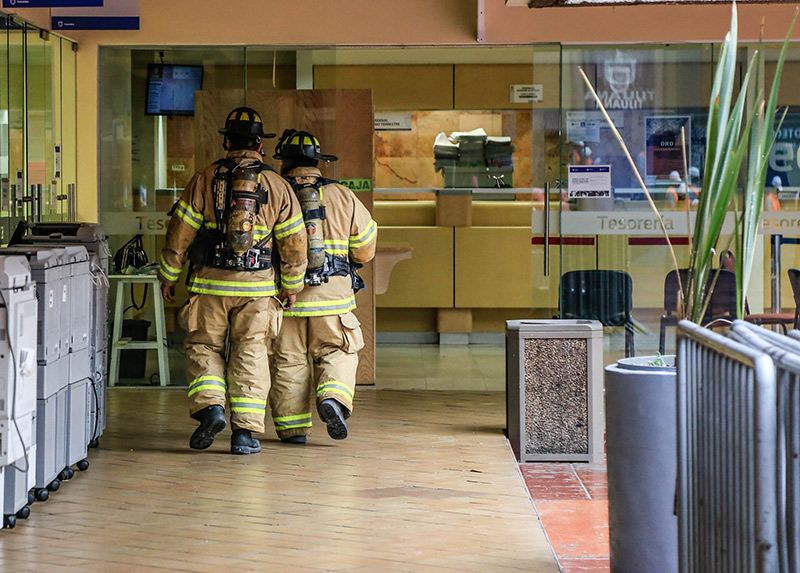 100% ROI, quality control, record-keeping and collaboration
Those who have implemented CloudVisit Remote Video Inspection software for their inspection processes have seen great ROI, and increases in efficiencies, quality control, and safety. Many report that remote inspections allow for more detailed, thorough documentation and record-tracking than an in-person inspection. For example, on-site inspections prevent an inspector to focus on one area of the installation compared to a remote video inspection. Looking at an object through a video screen allows an inspector to zoom in and focus on critical aspects of a subject that may have been missed in an on-site inspection. The collaborative approach of CloudVisit Remote Inspection platform puts customers, contractors, inspectors and technicians on the same team, working together to complete the project with maximum efficiency, safety and quality.
CloudVisit remote video inspection cases
Fire protection systems inspections are typically performed weekly, monthly, quarterly, bi-annually, annually, or every 5 years. They should be conducted in accordance with NFPA standards, local and state fire codes, and insurance requirements by a knowledgeable fire protection inspector or fire protection engineer (FPE). In some cases, a fire department would need to join the video inspection session to make sure all safety requirements are in place, or to conduct alarm assessments and other tests.
Regularly scheduled fire safety inspections, combined with CloudVisit Remote Inspection software features ensure that any fire protection system is always ready to respond to a fire, on-demand, as expected. With the complete cloud-stored record of inspection available from anywhere anytime, CloudVisit is leading the way to modern remote video fire inspections.
Have a question? Send us a message, comment to this post below, or call 845-809-5770.